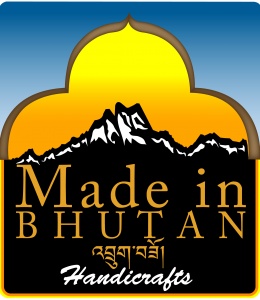 The Seal of Origin 'Made in Bhutan Seal' is launched in 2012 for the Bhutanese Handicraft Sector. The Department of Trade (DoT), Ministry of Economic Affairs (MoEA) who owns the Seal Logo has authorized APIC to use the Logo in the development and promotion of the crafts sector. The 'Seal of Origin'/ 'Made in Bhutan' has been developed to authenticate wholly produced and/or substantially transformed products with required minimum value addition done within Bhutan to help improve marketing capacity and contribute towards building "Brand Bhutan".
The seal certification system is being implemented by the agency to authenticate the products made in Bhutan to stand out from foreign produced handicrafts.
The details about the Seal in the guidelines, criteria, Letter of Undertaking (LoU) and application forms to avail the 'Seal of Origin' can be accessed from http://www.apic.org.bt/wp-content/uploads/2012/05/seal-of-Origin-Application-Forms.pdf or obtained from APIC office.