Agency for Promotion of Indigenous Crafts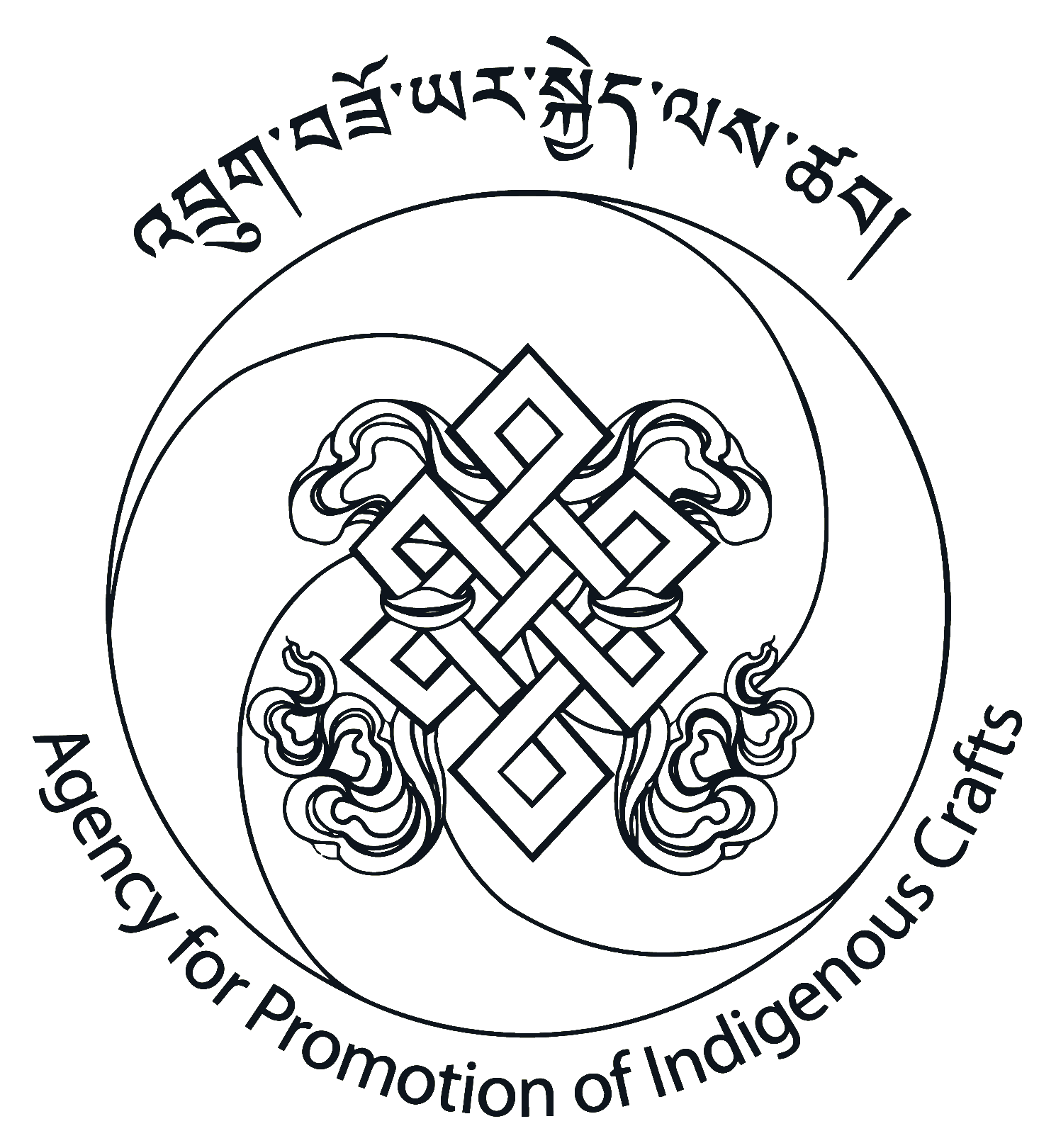 Bhutan a landlocked and mountainous kingdom situated in the southern slopes of the Eastern Himalayas, which was isolated from the rest of the world for most of its history and due to strong influence of Vajrayana Buddhism, the country has been able to preserve its rich cultural heritage, and the traditional skills, customs, values and a way of life that binds the society and instills a sense of peace, tranquility and unique identity, as a source of inspiration to our unique development philosophy of "Gross National Happiness."
Bhutan's art and crafts display unique characteristics harmonized by the strong influences of Vajrayana Buddhism which played a pivotal role in its formation. Over time, it evolved into a series of traditional arts and crafts skills which are, besides being ancient and colorful, very sophisticated in many ways.
Mainstream art in Bhutan has taken a distinct character, the tone of which is set by the highly respected disciplines of "Zorig Chusum" or the "Thirteen Traditional Arts and Crafts" of Bhutan. These unique skill sets have been taught and passed down to each new generation of Bhutanese artisans since time immemorial. Skills in these highly developed traditional arts were passed down from mother to daughter and father to son, depending upon the art form and its gender association.
The 13 arts enjoy immense patronage and support from all sections of the society, from the Royal Family to the common folk. The government's development policy is also to promote and preserve its rich cultural heritage for all future generations. A renaissance of these arts and crafts appears to have occurred in the mid-fifties during the reign of our Third Druk Gyalpo, His Majesty the King Jigme Dorji Wangchuck, who provided great impetus to the cultural life of the country.
He was very keen on the traditional arts of Bhutan being preserved and upgraded to keep pace with changing times. To that end, he established the first National Institute of Traditional Arts by bringing together a faculty of learned art masters from all over the country. Later the artisans trained were employed by the government to meet the needs of the Bhutanese officialdom as well as of the society at large. As a consequence, living communities of these artisans became bigger, catering to the ever-growing demands for its products and services.
Although the history of arts and crafts in Bhutan is as old as history itself, the sector is partially perishing due to supposedly low economic benefits and a general preference for white collar jobs over those that require manual dexterity. While we have been successful in preserving our Zorig Chusum skills, Bhutanese have not been able to reap major economic benefits from this potential sector. Diagnostic studies on craft sector have indicated comparatively low productivity of the craft industry, low contribution to the national employment and revenue and low tourists spending on authentic Bhutanese crafts.
Thus to facilitate the growth of craft sector and its industry by encouraging craftsperson to produce well-designed, skillfully made products for which there is a market and build economically viable and sustainable craft enterprises, Agency for Promotion of Indigenous Crafts (APIC) has been established in July 2011 in pursuant to the Executive Order No. C-2/198 dated August 10, 2010 of the Hon'ble Prime Minister and subsequent approval by the Lhengye Zhuntshog governed by Board of Directors under the Ministry of Economic Affairs.
APIC envisions to develop the crafts sector to create a thriving crafts community which not only creates a civil society, but contributes to economic growth, tourism and employment through skills enhancement, technical and financial support, and market linkages. The agency also invest in research and publications which serves as a reference on arts and crafts of Bhutan.  
Currently, Agency for Promotion of Indigenous Crafts function as an autonomous agency under the Ministry of Economic Affairs with technical advisory committee.